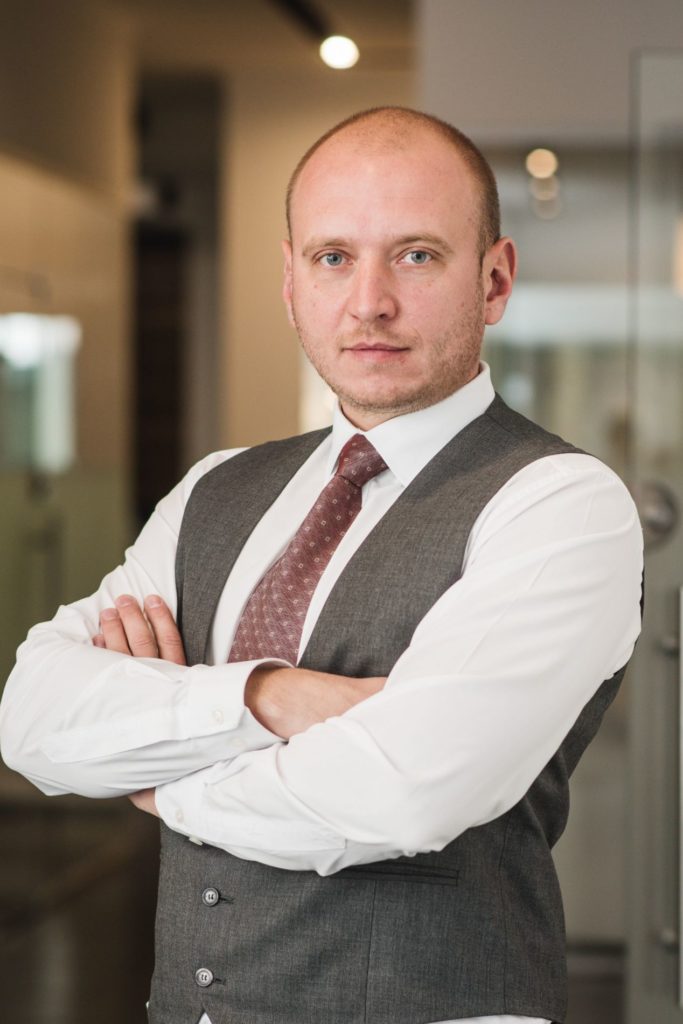 Andrii Kavchuk
Attorney, partner, head of Corporate Law and Compliance Departmert
Specialty areas: corporate law; corporate compliance; contract law; land law, real estate, construction and investment; labor law; comprehensive legal support of business; defending businesses against inspections; litigation.
Andrii has more than 15 years of professional experience in the legal field. Expert in "turnkey" business registration (individual entrepreneur, LLC, private enterprise, farm, cooperative society, public and other non-profit organizations), obtaining permits (licenses, certificates), support for labor relations and resolving labor disputes; contracts, including foreign economic contracts, support for collection of debts, fulfilling contractual obligations, pre-trial settlement of disputes, representation of interests in court (economic, administrative proceedings), defending business during inspections by the authorities, legal due diligence, full legal support for investment projects, transactions with real estate and land plots.
And – corporate compliance: drafting internal compliance documents, risk assessment and management, risk management measures, internal investigations, advisory support and implementation of business security systems; trainings for security personnel; development of anti-corruption programs, other company policies, methodical training of anti-corruption program officials.
Andrii Kavchuk joined Attorneys at Law "Bachynskyy&Partners" in 2017 and since that time he has successfully supported registration more than 150 business projects, obtaining more than 50 permits, licenses, representing interests in courts with a positive results for more than 20 clients, implementation of 2 projects of public-private partnership in agrarian sphere and medicine, concluding 5 real estate purchase contracts for the needs of business and assets of companies. More than 50 trainings, workshops for owners and top management of companies.
Education
Ivan Franko National University of Lviv
two higher educations - Master of Law and Master of International Law
Professional membership and participation
Member of Ukrainian Bar Association
Member of Club of business people (Lviv)
Member of Ukrainian Network of Integrity and Compliance (UNIC)
Сooperation with Lviv Chamber of Commerce and Department of Agro-Industrial Development of Lviv Region State Administration
Participant of "Compliance-Officers Training Program" of the Professional Association of Corporate Governance
Participant of "Human Rights in the Business Environment" of the Supremacy of Law Centre of Ukrainian Catholic University
Participant of "Good Governance" of the Lviv Business School of the Ukrainian Catholic University
Since 2014, Andrii has been providing pro-bono legal advice for participants in hostilities.