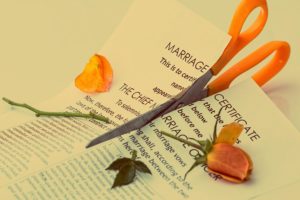 Divorce (marriage dissolution) in Ukraine may be held at 2 public bodies – Registry Office or court.
Divorce at the Registry Office is available only for couples without children.  Spouses shall submit a mutual application to the Registry Office by place of residence. If such an application is submitted by a spouse solely, it must be notarized. A month later you both are to be present at the very "ceremony" of your divorce (marriage dissolution), and afterwards you become ex-husband and ex-wife.
Registration services are paid, but not expensive, and cost UAH 8.50.
Marriage dissolution (divorce) in Ukraine is confirmed documentary by a Certificate of divorce.
One can't help mentioning that the presence of both spouses is compulsory. The application must be submitted personally, as well as husband and wife must be present at the process of divorce registration at the Registry Office. And if your application is notarized (see above), both spouses have to visit a notary for making such an application, otherwise notarization will be impossible.
Divorce through the court is longer and more expensive, but it is the only way for couples with children.
Divorce through the court has 2 scenarios – a "peaceful" and a "conflict" one.
A "peaceful" divorce (marriage dissolution) means submitting a mutual application together with a notarized agreement on child support. Such an agreement will have a binding force for both parties. The court fee in such cases is UAH 243.60.
A "conflict" divorce (marriage dissolution) takes place if the spouses have mutual claims and cannot reach consent. But filling a suit is impossible, if a wife is pregnant or if a couple has mutual child under the age of 1 year. There is the only exception: if one of the spouses committed a crime against another spouse or their child.
The court fee in such cases is UAH 487.20.
We wish your love-story and marriage would last forever. But if you need a legal advice concerning divorce (marriage dissolution) in Ukraine or any other family law issue, please feel free to contact us.